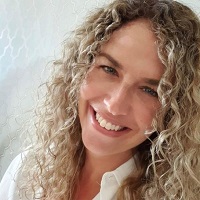 By Victoria Murphy, Head of Marketing, 5 April 2022
---
Salon life is something I've become quite accustomed to over the years. My best friends run a beautiful salon in Market Harborough called Mooi, and I love nothing more than having a treatment or two. Research suggests that activities involved in maintaining beauty positively influence our emotional and physical well-being. They create positive internal experiences that can result in decreased stress, as well as identifiable benefits to the body and brain.
Is it self-indulgent? Yes! But every person should invest in themselves in whatever way makes them happy. With a busy schedule it can be hard, especially when you find yourself constantly being your own last priority.
Last week I had the pleasure of helping one of our students with her final exam at the Salon NC. The salon is located at our Lower Mounts campus in the town centre of Northampton. These well-equipped, industry-standard environments give students the opportunity to gain practical, supervised experience working with fee-paying clients.
18-year-old Urte Pusciute is studying Level 3 Beauty and Spa Therapy and it's the first time she's been able to perform treatments on members of the public since the beginning of the pandemic.
My spa experience started with a detailed analysis of my body and skin. Urte measured my height, weight, worked out my BMI, assessed my posture, tested my muscle tone, and asked questions about my skin care routine so she could tailor the treatments to suit my skin type - dry and dehydrated!
Next up – dry body brushing, exfoliation, and a full body wrap. Urte explained that alongside exfoliation, body brushing is a popular technique used to remove old dead skin cells and unclog pores. One of my favourite treatments and left my skin feeling soft, smooth and visibly glowing.
I was then treated to a G5 massage – a mechanical massager using different heads to mimic different techniques. It's a deep massage and is excellent for toning, increasing circulation and to aid in the breakdown of fatty deposits and cellulite – hurrah!
During lunch, I had time to reflect on the morning's treatments. One of the things that struck me was just how professional everything was. Most of our teachers come from industry so it's hardly surprising. They have very high expectations and a key factor in the success of our students is the industry knowledge that staff provide them with, which keeps them up to date with the latest techniques and trends.
Urte was able to demonstrate her in-depth knowledge of the subject during a difficult question and answer session with her assessor. She's got a very exciting future ahead of her having told me she's applied to University College Birmingham to study for a degree in aesthetics.
I think the afternoon part was my favourite. Urte started with a body electrotherapy treatment (EMS) to improve muscle tone and appearance and I was all in! This specialised treatment involves delivering small, low-voltage electrical impulses to a muscle via electrodes placed on the skin, to cause the muscle to contract. It felt very strange to begin with but after 15 mins, I was more than used to it!
The day ended in absolute bliss with a full body massage and facial, equivalent to any professional salon or spa experience.
The Salon NC will be open to members of the public from September offering a range of treatments at very competitive prices. I would highly recommend a visit, so you can experience these wonderful treatments first-hand.