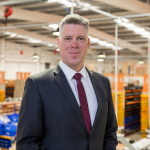 By Matthew Aldridge on 8 March 2018
---
We employed the first igus UK apprentice in the summer of 2016, after many hours of discussion regarding the Apprenticeship scheme and how (or if) an apprentice would fit into our company. Almost two years later, we now employ four apprentices and we are considering the recruitment of two more this year. They bring fresh new ideas into the workplace, represent igus well at various events, and are extremely up to date with social media and technology. They complete their roles in the workplace to a high standard and increase their knowledge with off the job training.
We really value our apprentices at igus and we will continue to work with providers to increase our number of apprentices and vary the schemes we can offer. Four per cent of our workforce are now apprentices and we would like this number to increase in the future. We currently offer Apprenticeships in engineering, finance, business administration and customer service. We will continue to develop our apprentices and in the future we hope to identify other areas of our business which would benefit from an Apprenticeship.

Our apprentices enjoy working at igus because of our family feel and culture. We have many employees who stay at igus for a long time so they support our apprentices with a vast amount of knowledge and expertise. We have a balanced workforce which has a mixture of young and mature employees and the apprentices fit well into this environment. We offer a modern, clean, newly extended building as a workplace for apprentices, and as with everyone at igus, they also have breakfast, lunch, and snacks for free on site. igus has many social activities and team building events throughout the year which apprentices can attend.

We encourage our apprentices to be responsible for their own development, this fits with the self-management ethos at igus. Apprentices have a sponsor in our i-people department who supports them with their well-being and who acts as the link between the workplace and providers. We encourage providers to visit their apprentices on site often and we ask for regular feedback from both the apprentice and provider on how we can get the best results from all parties.

We currently have two apprentices who have made a real impact at igus. One of them has almost completed a higher level Apprenticeship alongside an HNC in engineering and the other is taking his final exams for AAT level 3 and will then move onto level 4 AAT. The qualifications and experience that these two apprentices have obtained will no doubt play a huge role in the growth of igus. We are very excited about what the future holds with our apprentices and how their contribution will add value to the long term vision of igus.