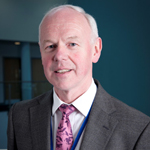 By Patrick Leavey, Deputy Principal on 26 October 2017
---
It is widely understood that the construction engineering sector in the UK is due to grow with infrastructure projects accounting for 45% of growth between now and 2021.

'Infrastructure' means projects that link towns, cities and villages. It can include roads, trainlines, bridges, tunnels, ports, and flood defences. In the East Midlands, a new rail centre for logistics in Northamptonshire is set to connect the West Coast mainline with the Northampton loop line and the A43. And the most topical and controversial infrastructure project is, of course, the High Speed 2 rail link that will eventually connect the UK on an east-west axis.

Growth in infrastructure means jobs, and jobs require skills. At Northampton College, we have launched a new range of study programmes that will put our students in the best position to take advantage of these new opportunities.

Let's take a look at the specific types of construction engineering work that is involved in the six stages of infrastructure projects.
1. Design, planning and pre-construction

Infrastructure projects are usually large-scale and take a long time to plan. Once the work is underway, it is often very difficult to make significant changes so robust planning is vital. At the start, surveys are carried out on the location, detailed costs are drawn up and planning permission is secured. Vital job roles in this phase include traffic safety and control officers, civil engineers, logistics plant managers, and contracts managers.

2. Geotechnical and earthworks

Building a bridge, tunnel or road presents huge safety issues so the ground must be inspected to see whether the structure can be supported or if extra support needs to be built. Specialists with in-depth knowledge and equipment need to check this out. You might be working as a banksman, plant operative, piling operative or hydrographic surveyor in this phase of the project.

3. Sub-structure and super structure

The frame that underpins the bridge, tunnel or road is vital to the success of the project. It must be made of the correct materials at the right strength or it could collapse with disastrous consequences. Roles here include tunnelling operatives, welding fabricators, scaffolders, rig drivers, and highways engineers.

4. Drainage and utilities

Flooding is a serious concern in many parts of the UK and any infrastructure project must be built so that it prevents this from getting worse. The project might need a new drainage system. Project management should to take into account how networks for utilities such as water, gas and electricity will work. Renewable energies are on the increase and these need to be able to link into the system too. Key roles during this phase of the project might include gas services installer, site inspector, civil engineering technician, building services or compliance manager.

5. Finishes

When the project is completed, it must fit within its local environment and look as attractive as possible. There are many job roles that work on perfecting that smart final finish including landscape architects, highways engineers, and painter and decorators.

6. Operation, repair, maintenance and management

Infrastructure projects are never really finished because they need maintenance to keep them working efficiently and running smoothly. The effects of weather and time need addressing by transport modellers, surveyors, tunnelling ventilation engineers and structural engineers.

If any of these exciting jobs appeal to you, why not come and talk to us about our wide range of construction courses. We could put you on track to gain the higher-level skills so that your career can grow with the industry.