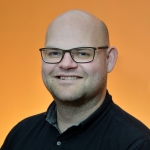 By Daniel Owens, PR and Comms Consultant on 29 November 2017
---
This time of year is awards season. From glitzy red carpet affairs in a swanky London theatre to a bit of fun at end-of-year office parties, it's a time to celebrate success and look back on the hard work undertaken throughout the year.

Here at Northampton College it's no different. Our annual awards ceremony is always a highlight of the curriculum calendar and this year was no exception.
More than 300 people packed into The Lookout to hear more about those students who really stood out over the past 12 months. It was an incredible evening, with story after story of inspirational human endeavour.

All of those who took part, from the award winners themselves to the musical theatre students who performed on stage, the catering students who provided a magnificent buffet and the students who helped run the cloakroom, should look back on the event with great pride. This was Northampton College at its very, very best.

But what goes on behind the scenes to make the event such a success? These things don't just spring up by themselves – there's a lot of people who work tirelessly to take ideas jotted down on a notebook and transform them into an occasion that sparkles, thrills and captivates in equal measure.

Planning for our awards night (held in November) starts around July time – although the date is often set almost immediately after the previous ceremony.

The marketing team will plan the overall look and feel of the night and discuss any potential new additions to what is a tried and tested formula. We will examine what worked well last year and identify areas that could be improved.

To have an awards night, you obviously need winners. We will contact heads of schools inviting suggestions for students who have excelled in the past 12 months. This isn't just about finding students who achieve the best grades, it's about those personal stories of success, those students who have been on a journey and have shown progress over the year.

Once we have our long-list in place we sit down and decide the worthy winners. We speak to them all individually and write the citations which get read out as they walk on stage to collect their award. These are agreed in advance with the students and we check the correct pronunciations of their names.

A highlight of the ceremony is our special guest speaker – a returning student who takes to the stage to give an inspirational speech to this year's winners. Finding a student to do this can be tricky as so many have left the area and are working in high-flying positions around the world.

We come up with a shortlist of former students who would fit the bill and ring round to find someone who's able to make it on the agreed date and has a suitable story to share.

This year we were fortunate enough to secure the services of Verity Debarr-Donnell, who delivered an incredibly motivational speech challenging students to take risks and follow their hearts when it came to their future careers.

The event wouldn't be possible without our sponsors and securing their support is a vital part of the planning process. We are fortunate enough to have extremely strong relationships with a number of local employers and many have been sponsoring their own awards for several years.

As the event itself draws ever closer the marketing team springs into action, drawing up seating plans, designing the programme, writing scripts, inviting VIPs, reminding the winners to be there on time, organising the staffing of arrival desks, ordering the trophies and producing the slides used as a backdrop on stage.

There's also countless little things which, in isolation, most people won't notice but which, when added up, come together to make the event feel so 'special'. For example, this year we invested in new candelabras and flickering candles to adorn the stage and arrivals desk.

On the day itself preparation starts at 12pm with team pizza – an essential ingredient to fuel us for the long night ahead! At 1.30pm we head over to The Lookout to set up the room, lay out the chairs, check the staging, put up banners and backdrops, sound check, issue photo consent forms, put up event signage, set up the cloak room and lay out name badges in easy-to-find alphabetical order on the check-in desk.

With guests arriving from 6.15pm we swiftly change into our glad-rags and get ready to greet our VIPs, our award-winners and their families. As the minutes tick by we ring around those who have not yet arrived to ensure they are coming and we are on hand to deal with any unforeseen issue regarding seating plans etc.

At 7.30pm, with the awards underway, it's a case of interviewing a number of pre-identified students for a promotional video, producing live social media updates of the event and ensuring everything runs to time, with the catering team preparing the buffet and the sound engineers checking the levels from the PA system.

This year in particular we were awash with fabulous stories of students overcoming adversity to achieve great things on both a personal and academic level. We heard from a student who fled Darfur unable to speak a word of English and who now wants to study law at university, an Asperger's sufferer who has made huge progress in coming to terms with his condition and a postman who is fulfilling his dream of studying chemistry.

It's truly a night to remember. A chance to remind yourself that young people are amazing and we should do all we can to challenge them, cherish them and champion them. It's a lot of hard work but my word it's worth it.