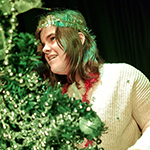 By Lauren Glover on 7 December 2017
---
Hi, I'm Lauren Glover and I perform in a band called LMK. I write my own songs, but I've only ever performed one song in front of an actual crowd. I'm also registered blind – which makes things tricky but even more rewarding.
Welcome to my blog post on the lead up to our fabulous festive gig at Northampton College, which is taking place in the Drama Theatre at Booth Lane from 7pm on December 18th.
Let me start from the beginning, and discuss rehearsals, and most importantly song choices.

We have all picked our songs to perform, and some of us are taking the chance to sing seasonal Christmas classics. I am doing Do They Know It's Christmas – by Band Aid.

Band Aid saw a collection of superstar artists brought together to record a charity single, to raise money for children in less privileged places, who didn't have enough food and water or the right living conditions.

They probably weren't aware of what Christmas was, because how would they have been able to celebrate it?

I think the song also raised awareness to those who might not be aware of the hard times that children in places such as Africa face. I think the lyrics really reflect on this, especially lines such as "Where nothing ever grows, no rain or rivers flow".

Other bands will also be performing different Christmas classics such as Slade's Merry Christmas Everybody, Merry Christmas Everyone by Shakin' Stevens, Mariah Carey's All I Want For Christmas Is You and Santa Baby by Eartha Kitt.

I am so excited for this gig, as Christmas is one of my favourite times of the year. I love spending time with all the family. I love all the different smells that come about at Christmas like the smell of baking, apples, gingerbread, cinnamon, and the pine needles on Christmas trees.

For me, the gift opening comes in the form of unwrapping the present, and trying to guess what it is once I have opened it, and then people tell me of course.

However, just because I cannot see, it does not mean Christmas is any different for me. The sentiments remain the same and it's a special time of year.

Anyway, I am going off-topic a little bit here.

Back to the topic.

When you're in a band with people that have different music tastes it can be difficult to choose songs to play. For example, initially I was reluctant to do Nothing Else Matters by Metallica, purely because I can't sing that low.

However, we're changing the key and it works well.

When you're in a band, you really need to be mindful that you will have to play different types of music. It is important to be flexible, and be happy to play a range of genres.

The process of learning songs for me is easy. I can hear a song, and pick it up just like that. To help, I download lyrics on my Braille Note, an electronic computer with a braille display.

Rehearsals are now in full swing and I can't wait to get on stage to perform. I need to find an out fit to wear though, preferably something Christmassy!