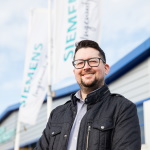 By Dan Walker, Head of Apprenticeship Delivery at Siemens Rail on 6 March 2018
---
With National Apprenticeship Week (#NAW2018) just around the corner, we've been reflecting on what Apprenticeships mean to us at Siemens Rail. And the short answer is: a lot.
Siemens has been a firm believer in developing its own people since we started out in the UK over 170 years ago, and today we're no different. We have over 500 apprentices in the UK, in as many diverse fields as we operate – from authoring digital tools to manufacturing wind turbine blades.

Siemens has expertise in digitalisation. In the UK, this means providing smart, technological solutions for our industry, energy management, healthcare, and mobility challenges. Much of this expertise is home-grown and comes from our Apprenticeship programmes.

Take our Three Bridges Train Maintenance Depot in Crawley, for example. This brand-new, multi-million-pound maintenance facility is unique in its approach and technology. The train maintained there – the Desiro City - is cutting edge, and the equipment used to maintain it – from the lasers used to take wheel measurements to the sophisticated predictive maintenance software onboard – resembles something from a sci-fi movie. We are proud to say that in almost every team working at this revolutionary facility are current or ex-apprentices – home grown-expertise providing thousands of passengers every day with safe, reliable, and comfortable journeys.

In fact, nearly 10% of employee population of the entire Siemens Rail Systems business in the UK is made up of current or ex learners from our Entry Level Talent development programmes.

Recruiting and training an apprentice is a costly investment, but one that we have seen time and time again pays off. We're reaping the benefits of a motivated, highly-skilled, and loyal workforce, and we've no intention of slowing down. We're developing new programmes; taking advantage of the opportunities the Apprenticeship levy and the new Apprenticeship Standards offer.

If you want to see Siemens' commitment to Apprenticeships in action, look no further than the National Training Academy for Rail (NTAR) in Northampton.

Another state-of-the-art facility, this time designed to build the rail engineers of the future. It's a collaborative project between Siemens and the government, and it allows us to not only train our own apprentices, but also those of our partners across the rail industry. At NTAR, learners have access to industry-expert facilitators, digital learning resources (VR/AR), and authentic train components to develop the Technical, Occupational, and Professional Competence they need for successful careers in The Railway.

At Siemens, we rely on top-class partner colleges to deliver the core of our Apprenticeship training – engineering fundamentals and techniques - to ensure our learners return to their workplaces safe and work-ready. We only partner with those training providers that meet our stringent quality requirements and share our enthusiasm for developing people.

Apprenticeships mean a lot to us at Siemens, and if you'd like Apprenticeships to mean a lot to your business, I would highly recommend getting in touch with Northampton College.