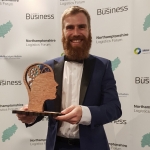 By Tom George, Teacher of Art, Illustration and Photography on 21 May 2018
---
As requested by Northampton College, I recently took the lead on a trophy design project for the Northampton Logistic Awards 2018. The college has recently purchased a laser cutter, inspiring a new wave of creativity, opening doors of possibilities in production and accuracy almost impossible to achieve by hand. Using a laser beam to cut the trophies, we were able to cut complex shapes and engrave text to a variety of depths by altering the sensitivity of the beam.
I jumped at the chance of applying my skills, knowing that my design background alongside experience making lamps, gifts and living hinges would lend itself to this project.

Although students were busy preparing for exams, we were able to gain some inspiration from them through brainstorming activities. Using words inspired by the winning categories such as: Logistics, Maps, Cogs, Education, Brain, Learning, Books, Transport and Growth, they then came up with some initial sketches that provided a great starting block and lead to the final design.

It was decided quite early in discussions with Angela Sanderson (our Art Technician) and Yvette Witcombe (our Business Development Executive), that our preferred material to use for the trophies would be wood, (from well-maintained forests.) This was chosen both for its aesthetic qualities and for having a lower environmental impact than most plastics and metals. Through ergonomic design, we were also able to minimise waste and lower the environmental impact of the trophies.

I was very pleased to have been involved with the project, which has developed my own skills and expanded my expertise. The laser cutting process has also inspired me to explore further commercial and retail projects. As for the students involved, it has given them the opportunity to see a real world application for some of the projects they have been working on. For some of them, picturing a job at the end of a creative subject such as art can be tricky. By sharing and involving students in these experiences, we can encourage wider employability skills within a creative subject and stretch and challenge them to achieve more.