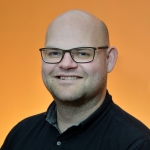 By Daniel Owens, PR and Communications Executive on 6 January 2021
---
Lockdown life is back once again and this time, it seems tougher than ever.
The third set of national restrictions has seen schools and colleges forced to close their doors and switch to online learning for the next six weeks at the very least.
But, unlike the first lockdown where we were able to get out and about and enjoy some spring sunshine, this time around we are faced with the bleak reality of short, dark days in the middle of winter.
Make no mistake about it, it's going to be hard.
It's a distressing time for all of us but arguably even more so for students. Young people thrive in social situations and when you remove that element of vital day-to-day interaction from their lives the world can feel an extremely small and lonely place.
Looking after our mental health is going to be crucial over the coming months and it's something all of us need to bear in mind – not just for ourselves but when thinking about others too.
We all have worries over our own health, the health of our friends and family and, for some, increased financial concerns. This is also true for many students, especially those working in the hospitality industry, who will have lost their part-time jobs.
Add in the fact that for many new college starters it is also a period of increased independence, of making new friends and of starting a new form of study that requires far more self-direction than anything previously experienced at school and it becomes a potentially toxic mix.
The perceived risk of young people passing the virus onto their elders is another added burden. That's a lot of weight on young shoulders and one that all of us, young and old, need to understand.
The added restrictions of life in lockdown make all of these issues even more challenging to deal with. Being forced to self-isolate and therefore unable to make friends and develop a new support network means students are less able to share their problems. And when it comes to mental health, being able to share our experiences and relate to others is a key part of recovery.
Here at Northampton College we know that each student is an individual, not just a grade. All of you will be going through this in your own way, and with your own unique struggles – and that's fine.
Don't feel the need to conform. Don't feel that because everyone else seems fine with the one thing you're struggling with that you're the one in the wrong. We are all in this together.
Whatever works for you, keep on doing it – and share it with others because there's bound to be plenty more people out there feeling it too.
Today's students are this country's tomorrow. It's up to all of us to encourage, protect and help the generations of the future. Lockdown is placing incredible demands on them all but it is a challenge that the vast majority are rising to and thriving upon.
We need to listen, empathise and support students every step of the way to help them continue to successfully navigate the incredibly choppy waters of COVID-19 and that is absolutely what we intend to do.