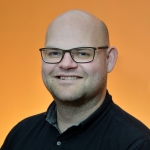 By Daniel Owens, PR and Communications Executive on 22 October 2020
---
A concerted effort to support some of the most vulnerable members of society throughout the global pandemic has seen Northampton College establish itself as 'the college in the community'.
From delivering food parcels and producing protective face shields to writing a children's book about social distancing and performing feelgood songs to lift the spirits, staff and students at Northampton College have gone above and beyond during the COVID-19 outbreak.
A number of food parcels were handed out to vulnerable families while deliveries of essential supplies were also made to Northampton General Hospital and The Hope Centre.
A spokesman for The Hope Centre said: "The stock we have received from Northampton College is fantastic. With it, we are feeding 100 or so homeless people a day plus people in the wider community who are in need."
A care home hit by a shortage of vital equipment needed in the fight against coronavirus hailed the donation of masks, gloves and hand sanitiser by Northampton College – saying it helped to 'keep staff safe'.
Balmoral Place, in Kingsthorpe, hit national headlines when it was revealed staff were facing a 'critical' shortage of equipment as they continued to deal with the COVID-19 outbreak.
After seeing the reports, Northampton College was able to step in – donating its reserves of masks, gloves and hand sanitiser.
Demand for protective equipment saw college staff manufacture face shields for key workers on the frontline of the fight against COVID-19.
With Personal Protective Equipment (PPE) in short supply, Electrical Installation and Engineering assessor Tony Thompson personally produced 50 face shields for Leicester Royal Infirmary, staff at a care home in Corby and a food distributor in Peterborough.
Former Btec level 3 extended diploma mechanical student Adam Mackay also helped to manufacture PPE and supplied dozens of face shields to both Northampton General Hospital and Kettering General Hospital.
Adults with mental health needs were able to 'keep on learning through lockdown' thanks to a remote working initiative.
For several years, Essential Skills tutors from the college visited MIND in Daventry as part of weekly sessions with adults who have previously been unable to engage with mainstream education due to their acute mental health difficulties. Social distancing gudelines forced the sessions had to come to an end, threatening to halt their progress.
When the adults requested work be sent to them so they could carry on remotely, staff at the college arranged for work to be sent electronically and also offered telephone support to allow the learning to continue.
Students also recorded a 'virtual cover version' of a classic feelgood song to highlight their hopes for the future as they looked to emerge from lockdown life.
Musical Theatre and Dance students compiled their version of the Judy Garland song 'Somewhere Over The Rainbow' from their own homes, each sending in videos of them singing and performing. The recordings were then stitched together and laid over an instrumental track to form a full music video.
The track was the brainchild of musical theatre tutor Suzanne Lewis and arranged by music tutor Natalie Evans, who said: "It's been a very tough few months for everyone and we wanted to put something together which reflected the uncertainty and difficulty we have all experienced, but also something which hinted at the prospect of better days to come.
"We're thrilled with the end result. It's been a real team effort and the students now have something they can treasure forever which will serve as a reminder of what all of us have been through throughout the lockdown restrictions."
Northampton College continued to offer free meals to the most vulnerable 16 to 18-year-old students over the summer holidays while staff and students teamed up to produce a children's book explaining the impact of coronavirus for youngsters attending the on-site nursery at Booth Lane.
It follows the story of a loveable character Little Chum and his friend Chumbelina as they return to nursery after the holidays, having to get to grips with new guidelines around social distancing, 'bubbles' and hand washing.
Pat Brennan-Barrett, Principal of Northampton College, said: "The restrictions put in place to help combat the COVID-19 pandemic have affected all of us, but the response from our staff and students has been nothing short of incredible.
"The college community has stood up and met this crisis head on. We have a lot to be proud of.
"Yes it's been tough, yes we've made sacrifices but we are now starting to look ahead. There is a glimmer of light at the end of what has been a very long tunnel, and we are all looking forward to the future once again."