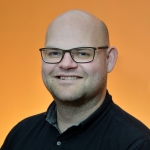 By Daniel Owens, PR and Communications Executive on 12 June 2020
---
People are queuing outside Primark, the Drive-Thru at Maccy D's has a 10-minute wait for nuggets and there's midweek Premier League football on the telly. Whisper it quietly, but things are finally starting to feel a bit more normal.
For three months we have been adapting, evolving and acclimatising to a very different world – a world none of us could really have envisaged. It has been a period of uncertainty, anxiety and nervousness. But we've done it. We've got through it and, fingers crossed, we will come out the other side safe and secure.
It's so important that we don't ease off now. The past 12 weeks have been hard work and we simply can't allow that hard work to go to waste. The social distancing guidelines and increased handwashing regimes will be here to stay for many months yet and it is vital these continue to be followed if we are to get back to how things used to be. The less these are respected and adhered to, the longer they will be in place.
At Northampton College, the concept of social distancing means we are having to do things very differently around campus when students return. One way systems, staggered class times, new ways of managing lunch breaks and the continuation of remote learning are all things that are likely to be in place come September. Our plans are evolving all the time but rest assured, when the times comes, we will have left no stone unturned to ensure the safety of our students and our staff.
This is an opportunity for us all to review the way we currently do things. It's a chance to think of how we can do things differently, more efficiently, more practically and in ways that better suit you.
We're looking forward to welcoming everyone back to Booth Lane, to Lower Mounts and to Daventry in due course. But only when the time is right and only when it is safe to do so. Until then, we all need to do our bit to ensure we can get back to normal as quickly as possible.