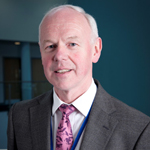 By Patrick Leavey, Vice Principal on 1 November 2021
---
The eyes of the world are on Glasgow this week as global leaders gather for COP26 – the UN Climate Change Conference.
The summit will bring key parties together to accelerate action towards the goals of the Paris Agreement and the UN Framework Convention on Climate Change. It's likely we will be placed on red alert to go green.
With everyone's eco credentials now firmly on the agenda it's an opportune moment to review what we stand for as a College and examine current working practices to identify ways we can improve and play our part in the global fight against climate change.
Here at Northampton College, we are always looking at positive ways to promote environmental improvement.
Through our 'Go-Green Initiative' we encourage staff and students alike to consider the impact we have as a College and how we can help create a more sustainable future.
All three of our campuses were built with the environment in mind. We set our architects the challenge of creating buildings that are sympathetic to the environment with as low a carbon footprint as possible.
We continue to be conscious of our energy consumption and carbon footprint, which we combat through the use of building management systems, a green sedum roof, photovoltaic solar panels and a helical wind turbine.
Our Booth Lane and Daventry campuses include several protected garden areas to encourage wildlife. The Lagoon at our Booth Lane campus is a protected conservation area – sealed off to encourage plant growth and wildlife.
Recycling is something that plays a huge part in all our lives and will no doubt be a major focus of the summit.
Our commitment to waste management here at the College has seen us eliminate the sale of single-use plastic water bottles in all three College canteens, replacing these with reusable water bottles, while introducing an incentive of 20p off any hot drink when you use a reusable coffee cup.
No waste from College campuses is sent to landfill, with all food waste from College kitchens separated and used as biofuel.
As a society, we all need to think more about the way we get around. We have become so reliant on the car as our primary mode of transport but could we walk more? Could we use public transport more? Could we reduce the frequency of our journeys? Almost certainly, yes.
All three of our campuses are easily accessible by public transport and we also offer help with the cost of a bus pass through the bursary. We also have plenty of secure cycle points at all three campuses and encourage all students to travel on foot or by bicycle where possible.
The recent addition of e-scooters to Northampton's roads has also made a positive difference and we see many students opting to make use of this system to get to and from college, further helping to reduce emissions. We have also recently installed electric vehicle charging points in our car parks, future-proofing our campuses and enabling staff to make the most of green technology.
Staff that drive to and from work, or use a car for College business, are given the opportunity to donate 1p for every mile travelled to the College Tree Fund. Donations are used to plant trees on the College campuses or at community orchards/nature reserves around Northamptonshire.
So, we're doing our bit, but could we do more? We are consistently reviewing our practices and keeping an eye out for new ways of doing things that can make a positive change. This week's summit will bring a renewed energy to the climate agenda and reposition it at the forefront of our minds – and that can only be a good thing.
The environment is everyone's business and we all have a part to play.