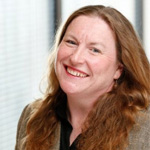 By Ruth Exelby, Assistant Principal Employer Engagement on 22 September 2017
---
As I sit and write this blog I wonder how I will make it to Christmas. Oh, I know, who wants to be thinking about Christmas? However, this Saturday sees the start of THE must watch television programme of the year – Strictly, which of course culminates the week before Christmas.
Strictly speaking, (sorry about the pun!) this is not a problem as my other passion is for apprenticeships and this week also saw the start of the academic year for many apprentices at Northampton College. As the bright, eager and enthusiastic students were welcomed through the College doors to embark on a new phase in their lives I reflected on the parallel lives they will lead with my Strictly heroes.
On-the-job training – For many of the Strictly stars it is the first time they have taken to a dancefloor and they face a steep learning curve, picking up tips from their professional partners. Our apprentices will also be learning as they go, gaining invaluable advice from their time in the workplace where they will be working alongside experienced industry experts
New friends - OK, so they may not be of the super-star status as those on the television but they are the superstars of the future for our community and local industry
Glittering outfits - not a sequin in sight but some very smart, sharp dressing going down
New moves and new skills – fancy footwork will make our apprentices fleet of foot with the new skills they learn on their programmes
Judges' feedback – support from our assessors and tutors will make sure that our apprentices achieve a perfect 10 every week.
It doesn't get much closer than that – or does it? After a little quizzing in the office, I have discovered that our chief Engineer in Apprenticeships, Colin Needle, is the Choir Master for Reverend Richards' flock. Now we are singing from the same hymn sheet – come on Northampton!