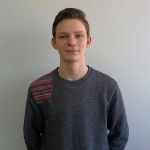 By Matthew Cox on 21 May 2018
---
In school I was used to being told what to do and not having any say in the matter. I had become used to the usual cycle of school life and could predict what I would be doing day by day, so when it came to completing my GCSEs I was excited to take the plunge into independence when starting a college course.
However, as I had become so used to being in a routine, it took some time to adjust to a different setting in September. I had chosen to start a business course at Northampton College, even though I hadn't taken the subject in school. I felt like it was time for a fresh start.

At first, meeting the teachers and other students was very tough, I was thrown in at the deep end but gradually I began to find my feet and make friends. I knew that help was there whenever I required it so I didn't feel that I was alone.

At the beginning of the year I had been told by my tutor Nat that I would need to complete some work experience as part of my course. Work experience to me was something completely out of the unknown, I had never worked as part of a team in a work setting before and was very anxious about what it could entail so I was keen to ask what I would be able to do.

At first I thought that I wouldn't be able to do it but as I found out more information about what I could do my initial worries started to fade. My tutor was very helpful and gave me plenty of potential opportunities such as working in a national store, however I felt that I needed to be somewhere that would be more beneficial to my business studies.

Andrea, who is the leader of business, was notified of my dilemma and was determined to find me somewhere which would help me for my future career, and I was excited to find out what it would be. A few weeks later I received an email notifying me that the marketing team was keen to work with me and wanted to set up a meeting to let me know about what I could be doing. This news came as a surprise and I immediately replied accepting the opportunity. I felt very happy as I was being given a great opportunity which would help me in my future career.

As I was taken to the department my heart was racing and I wanted to make a good first impression, I stepped into the office and and sat down with Alex to discuss the tasks and came out of it raring to get started.

This was my chance to show what I could do, I received plenty of encouragement from my family and my tutors and it gave me confidence to go on and make the most of it. As I am writing this, it's my first day and I have no regrets about deciding to accept the opportunity.

I am very excited to take on a whole plethora of tasks and already feel settled and relaxed, a feeling that I never thought I could have had when I first heard of this opportunity that was being offered to me.

This experience showed me that everybody deserves a chance and that when you get given one you should take it no matter how daunting it may sound.