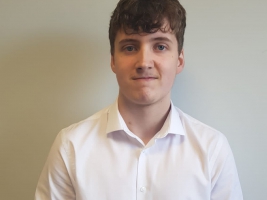 By Liam Kelly, Level 3 Business student, 21 March 2022
---
I am currently a student completing a Level 3 business course with Northampton College. Learning at the College has been a fantastic experience and has provided me with the crucial knowledge and qualifications to progress further within business, particularly marketing.
During one of my one-to-one meetings with my tutor Karin we had a discussion as to what area of business I was most interested in. I expressed my interest in the marketing side of business. I was asked by my tutor if I was interested in any potential work experience opportunities if she could set one up. A couple of weeks passed, and my tutor Karin provided the opportunity to take part in some work experience in the marketing department within the College. I leapt at the opportunity to gain vital experience within the sector of business I am most interested in.
I have had experience working in a team from my previous years at college and my current part-time job, however I had never experienced working in an office setting before which was a challenge that I was willing to overcome.
On the first day of my placement, I met with Alex who immediately made me feel welcome and informed me of the range of activities and projects I would be involved in during my work experience. A new experience such as this can be a rather daunting thing however, all the staff in the marketing department were friendly and a pleasure to work with. They helped me to get settled and relaxed within their work environment.
My favourite aspects of this work experience have been the design work, which saw me given the opportunity to use an application called Canva Pro to produce graphics for the college's social media platforms. Another part of the experience which I enjoyed was observing the behind-the-scenes elements of the video recording and social media side of marketing which provided me valuable insight into the technical side of marketing.
Overall, this experience has been extremely exciting and engaging and has provided me with the knowledge and understanding of how exactly the world of marketing functions. I will absolutely take what I have learned from this experience and use it in all my future endeavours. I am incredibly thankful and appreciative of the opportunity and couldn't be more satisfied with my experience.